It is 10 pm in the evening of the 8th of November 2023, I am exhausted from working on the structure of DigitalWealthBuilder.com (this blog). I've had this domain name for sometime now, but I have not used it constructively.
I have been working continuously for 2 days (and nights!) to get it ready as I have 3 days off from my employment. My eyes are nearly closing up, but the excitement of the future keeps me going.
The Dream Has Been Delayed Too Long!
I have always had a dream of building wealth using the internet. I've had some success in the past and experienced many failures after an unfortune episode in my life.
I will reveal this painful period in my life gradually as the blog posts start to pile up. I have come to realize that most people go through difficult events in their lives that transform them significantly. They may go into depression and lose the zest of living a fulfilled life.
A small number manage to get out of the rut and build themselves up again. I have managed to stay afloat, living a mediocre lifestyle. I managed to find employment as a security officer to enable me to provide the bare necessities for my family.
I have promised myself that I will do everything I can to create a brighter future for myself and my family. I have suffered too long, and most of it has been self inflicted.
The Passive Income Lifestyle
I set up some websites form 1999 to 2003, these were earing me in excess of $5,000 monthly until 2006. I experienced a series of unfortunate events in 2003 that drove me into major depression. The internet based passive income lifestyle gradually came to an end.
I lost the motivation to make something out of my life. I just drifted along, depressed and feeling sorry for myself. I had managed to get myself into a rut by starting up traditional bricks and mortar business that piled on debt.
My false pride forced me to pay off the debts and not to file for bankruptcy. The better option would have been to declare myself bankrupt. I am still paying off debts that have been accumulated as a result of my actions and also the actions of others.
I have just about managed to stay afloat, whilst struggling with these debts. I have realized that life is only a struggle if you choose to make it so.
Below is a snap shot of a site that I created and ran back in the early 2000's. This site was earning me close to $4,000 monthly in passive income. These earnings were mainly from recurring affiliate commissions and network marketing opportunities that were marketed exclusively using the internet.
Take a look at the snap shot here.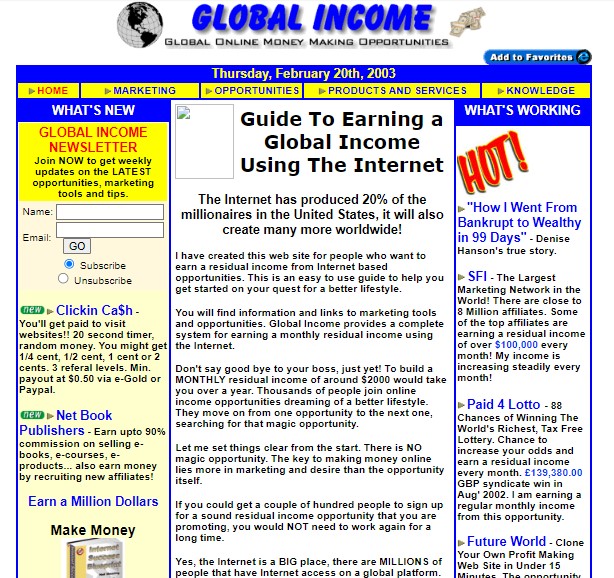 I was earning commissions of around $1,500 monthly from India's Shaadi.com affiliate program that I was promoting on my site UKAsian.co.uk. Anupam Mittal was paying me commissions from India! Some of the other sites that I had were EverGrowingIncome.com, UK-Guide.com, BossMode.com, AsianShop.co.uk…
I was earing commissions from programs live Juvio, Empowerism, SFI, TrafficeWave, Web Hosting affiliate programs, autoresponders…
All that is in the past now, but I know that I can get to over $5,000 monthly in passive income, as I had done it before. I need to get develop that mindset again and put in the marketing effort.
Start Small And Build Big
I have started off by hosting my site on Wealthy Affiliate. This takes care of hosting my blogs and also provides valuable training and keyword research resources.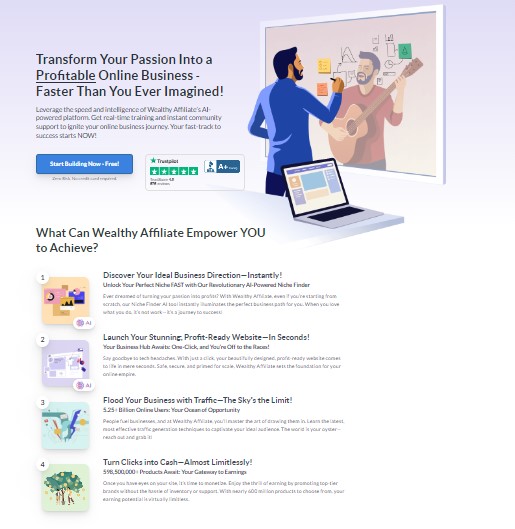 The Wealthy Affiliate program also offers an affiliate program that pays out recurring commissions. If you are interested in building your own affiliate marketing/ internet marketing blog, I would recommend that you use Wealthy Affiliate. I am using it to host this blog and also working on others.
Spending $10 Monthly To Build Passive Income
I am building a global network of affiliates in the LiveGood opportunity. This is a nutritional products based company with a lucrative affiliate program.
There is a one time fee of $49.95 to get started with LiveGood and you can stay active as an affiliate for a monthly fee of only $9.95. You will get your own unique links to market the products and also the opportunity.
You earn commissions on products sales and also for building the business. Take a look at the LiveGood Opportunity now.
You can build a substantial monthly passive income with the opportunity. It is low cost and have a global market place to expand your business using the internet.
Getting Leads Is Difficult In The Beginning
I know it is difficult to get your message out to targeted prospects when you are starting out as an internet marketer or affiliate marketer. Most likely you will not have a significant number of leads on your email list or no email list to start with.
You can get around this problem by using a marketing system that gives you targeted leads daily. I have started using MyLeadGenSecret to email fresh leads daily. These email have started to generate prospects for the online opportunities that I am marketing.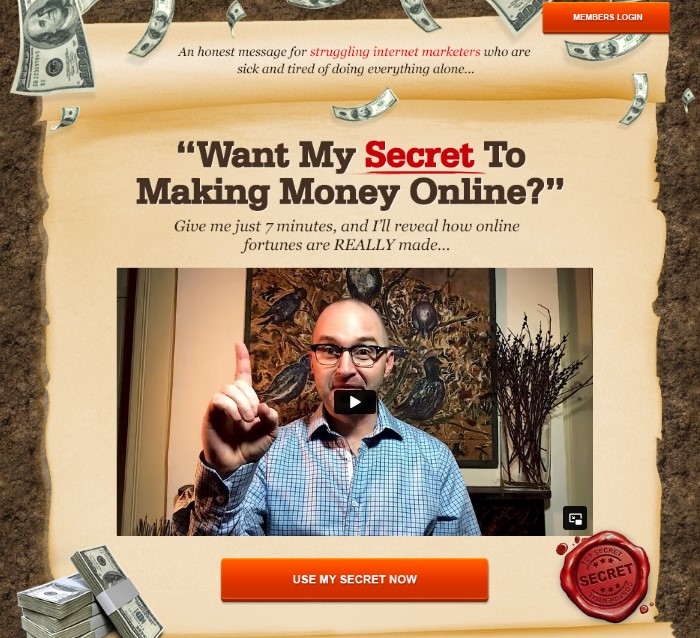 I will be using MyLeadGenSecret to build my own email list soon, but for now I am promoting my offers directly. This program has a built in mailer, you can get started immediately even if you don't have a mailing list of your own. It also has a lucrative affiliate program that you can use to build up a monthly passive income.
Get started with MyLeadGenSecret now.
The Journey Towards Building Wealth Online Has Started
I have started on my journey towards building a substantial monthly passive income using the internet. You can follow my journey as a spectator or you can join me on this journey to build your own passive income streams using the internet.
This is my first blog post, I have been working on the structure of this blog for the past few days. I have been working day and night to lay the foundation. I am exhausted, but the excitement and the dream keeps me motivated.
I am writing this blog post on the fly and have not had the time to structure it in a formal way. I had to get started whilst the state of flow lasted. The excitement is at its peak and the dream has started to unfold, it is up to me to stay focused.
I know that if I can help a large number of people build create passive income streams of their own, I will also be rewarded with the same. These blog posts will motivate others to take action towards transforming their financial status for the better, if they are ready to do it.
The Tools And Opportunities That I am Working With
Wealthy Affiliate – Everything you need to start your own affiliate marketing blog.
LiveGood – A low cost global nutritional products company.
MyLeadGenSecret – Get targeted leads daily, email your opportunities.
I would suggest you start building your own affiliate marketing blog. This will allow you to create passive income streams as the blog posts start to draw in targeted visitors. This may take 12 to 24 months to build a substantial monthly income that is sufficient to replace the earnings from your current employment.
Even if you don't have the time to start your own blog, you can join LiveGood and start promoting it using MyLeadGenSecret. This will only take you a few minutes daily and allow you to build a monthly passive income.
Are You Ready To Join Me On This Journey?
The best time to get started on build your own passive income streams using the internet was sometime ion the past. The second best time is right now! Don't let this opportunity slip by, get started immediately.
You will make some mistakes in the beginning, but if you stay focused you will achieve your goals and eventually create financial freedom.
The most important thing is to have belief yourself, if you have this, the rest of the puzzle will fall into place. I may not be ready, but I have made a decision to get started.
I have put in the effort by working on this blog day and night to get it ready. I know the rewards will start to flow in as the dream starts to unfold.
There will be some spelling and grammatical mistakes in this post as I am really tired. I am so excited, I had to write this blog post and get it out in the world.
I will also start posting income reports starting from the end February 2024. The first income report will be for January 2024. November 2023 and December 2023 will be used to find a select number of people who are also ready to transform their lives using the power of internet marketing.
There are many exciting things planed for this blog. I know 2024 will be a busy year and I know that I will have built up a monthly passive income of over $5,000 by the end of 2024.
This is just the tip of the iceberg as I have just got started. If you would like to work with me, join the opportunities listed above and contact me at: digitalwealthbuilder@gmail.com with the subject line Freedom 2024.
I will stop writing this blog post now and take a couple of hours of rest. I have put in a lot of time and effort to get this blog up and running. It is now live and the future looks bright.
It may take a few months for my posts to get indexed by Google, hopefully search terms will start to drive in targeted visitors by January 2024.
For now I have made a lovely cup of floater coffee to reward my labour of love. I need can do it some caffeine in my system, as I don't smoke or drink.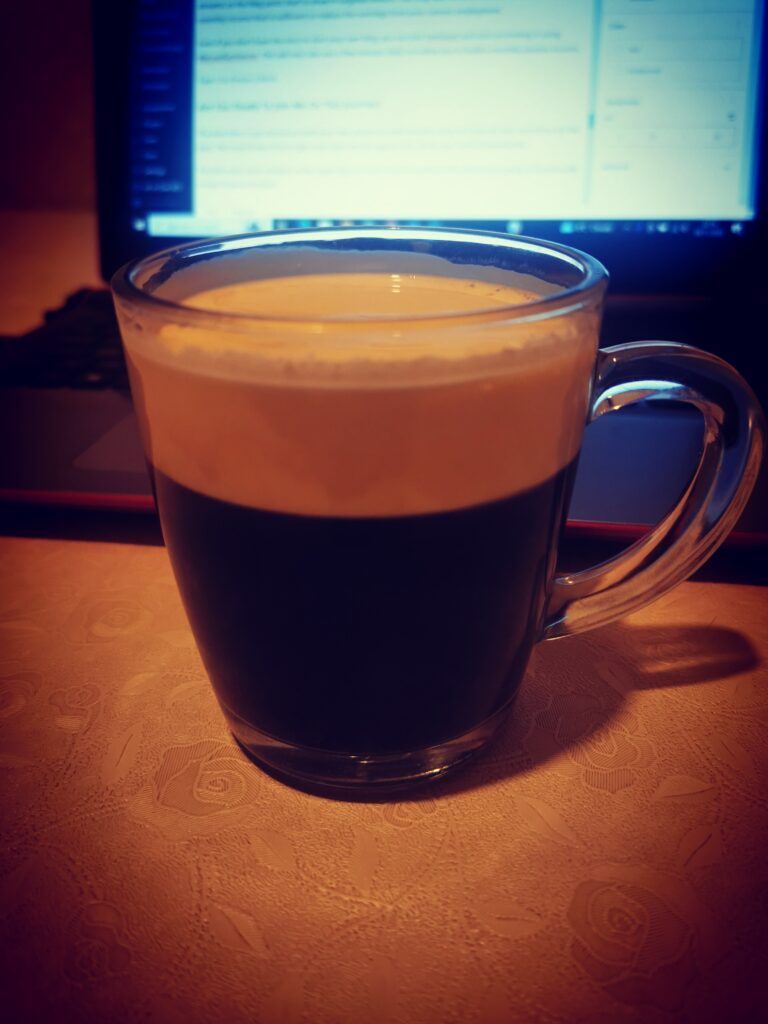 The date Wednesday 8th of November 2023 will be noted as the day my life changed direction. It is a turning point, as I have had enough of living this mediocre existence. Surely there is much more to life than I had steeled for?
Until the next post, stay focused on your dream and believe in yourself!
"I may earn commissions as an affiliate from sponsored links within this post"